Over the last 4 years the University Wine Festival has made University and Sugar Creek libraries our beneficiaries of choice. Your donation goes specifically towards program funding, enabling our libraries to better meet the needs of our growing community. We plan for this event to be an annual fundraiser that will support our libraries' needs for years to come.
Help us support the community with your attendance at the University City Wine Festival every April!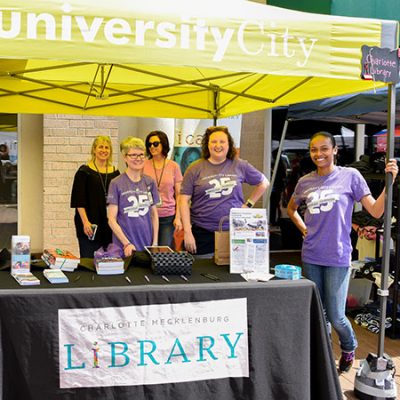 The majority of our volunteers are provided through our beneficiaries. We welcome the general public to volunteer; however, the spaces are very limited. If you are interested, please contact Shawn Cosner at scosner@universitycitypartners.org 
If you are a current volunteer and have questions, check out our volunteer roles and F.A.Q.s page.
We look forward to working with you as we give back to the University City community at our next festival!
Proceeds benefit University City and Sugar Creek Libraries
Annalissa
Black Ridge
Cambria
Carro
Catena
Centorri
Drumheller
Elbo
Evolution
Filus
Fiore
J Christopher
J Lohr
Kiona
Limestone
Milou
Moss Roxx
New Age
One Hope
Paris
Pertico
Raimat
Rockbrook
Septima
Sileni
St Christopher
Steeple Jack
Tacho
the Path
Tiamo
Verso
Villa M
Zestos
Pilot Brewing
Great Lakes Brewing
Mother Earth Brewing
Saturday, April 13th
Shoppes at University Place
8708 JW Clay Blvd, Charlotte, NC 28262
Parking is free. Access is available for Uber, Lyft and taxis.
Early Entry: 1 pm   |   Tickets: $40
General Admission: 2 pm   | Tickets $35